Publication date: May 07, 2018
A FIELD OFFICER'S NOTEBOOK
Selected Poems
Dan Davin
edited with an introduction by Robert McLean
ISBN: 978-0-473-43068-9
Softcover, 104 pp, 210 x 145mm
freepost per copy – national & international
price NZ$29.95
'This is one of those rare posthumous publications that allows us to read
an author we know from a new and more personal perspective.'
––Vincent O'Sullivan
Dan Davin, best known for his prose fiction, memoirs, and work in academic publishing, also wrote poetry. Not that he wrote poetry throughout his life; rather, it was almost exclusively written in three discrete periods: during the mid-to-late 1930s while at university in New Zealand and England; during the Second World War while on service in Greece, North Africa, and Italy; and after his retirement from the Clarendon Press in England in the mid-eighties. A Field Officer's Notebook makes this body of work available to general readers for the first time.
Although all Davin's poems deserve to be read, those he wrote during his time as an intelligence officer with the Second New Zealand Division are revelatory and ought to be given their due as much by students of literature as by those of modern warfare. Quite unlike anything in New Zealand literature––exacting yet generous, angry but tender, almost sui generis––they speak strangely of even stranger things that defined a generation and stand comparison with the finest poetry to have come out of the Second World War. Indeed some are amongst the finest poems written by any New Zealander during the forties and deserve to be read in such a light. Many of the poems of Davin's "late period" revisit the battlefields he'd fought in forty years before. Some revisit the days of his youth in Invercargill and Dunedin, while others explore his Irishness and record with heavy heart but light touch the "fighting withdrawal" of his final years. Almost all are taken from notebooks and manuscripts deeply scored by Davin's emending pen.
Davin's poems speak unguardedly and disarmingly about one man's life, his loves and losses, in a voice that haunts long after it has been heard.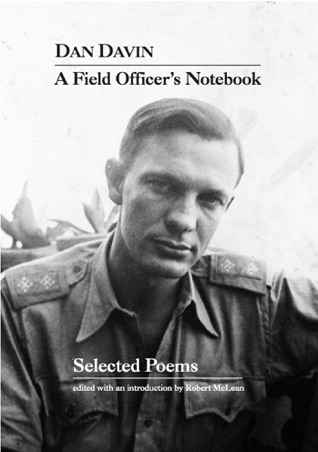 'Had I constrained my spirit then'
Had I constrained my spirit then
To put on learning's gown
I might have scorned the life of men
And walked with the scholar's frown.
Well-informed I should have strode
Lettered and erudite
Subscribing to a college code
And mouthing maxims trite.
I might have lost humanity
And withered to a don
But I preferred profanity
Love and demijohn.
Cashelnagor, 1937
© The Estate of Dan Davin 2018