freepost per copy – national & international
price NZ$42.50
Cold Hub Press ~ Peter Hooper
Publication date: 01 June 2021
REJOICE INSTEAD
the collected poems of
Peter Hooper
edited with an introduction by Pat White
ISBN: 978-0-473-57185-6
Softcover, 224 pp, 210 x 148mm
It is a world-sized, world-shaped book,
a 'tremendous room' in its generosity
and breadth. ––Gregory O'Brien
West Coast poet, novelist, teacher, bookseller and conservationist, Peter Hooper (1919–1991) was described
by Colin McCahon, who used his poems in a number of
art works, as a 'poet of grace and truth'. Rejoice Instead,
edited and introduced by Pat White, includes most of
the poems from the slim volumes of poetry that were published in Hooper's lifetime and are no longer easily accessible, along with thirty-nine previously unpublished poems written in the last years of his life. It is the first comprehensive collection of the work of a poet whose
voice on behalf of nature and the environment, and
whose clear insight into where our treatment of the environment was heading, has only deepened in its
relevance in the 21st century.
Peter Hooper (1919–1991): was a West Coast poet, novelist, teacher, bookseller and conservationist. In a writing career that spanned the decades following World War II until his death in 1991, his reputation as a poet has tended to depend on poems published in slim volumes no longer easily accessible. The exception was Earth Marriage (Fragments III, 1972), a selection of previously published and new work with photographs of the West Coast, which sold two thousand copies within a year. A rather meagre Selected Poems was published by John McIndoe in 1977. Between 1977 and his death in 1991 Hooper published a trilogy of novels: A Song in the Forest (1979); People of the Long Water (1985); and Time and the Forest (1986) which won the New Zealand Book Award for fiction. A collection of short stories, The Goat Paddock and other stories appeared in 1981. Hooper also wrote and published extensively on conservation and environmental subjects.
Read a review by Nicholas Reid
Read the Landfall Online review
Read the Kete Books review by Richard Reeve
Old Man in a garden
Up to my knees
grass in the gully
over my head
a tui scolds in the kowhai
I should worry
I rejoice instead
© THE ESTATE OF PETER HOOPER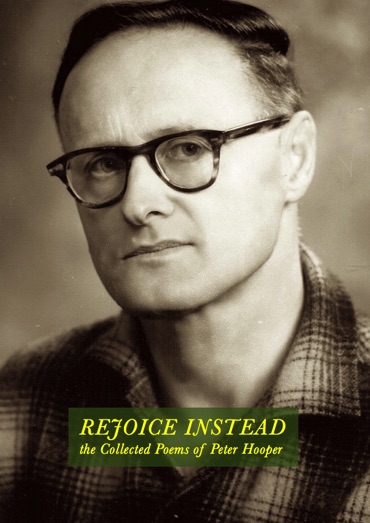 Hoeing Beans
Bending before the white sun
That blinks day back to the hill,
I hoe the beans' long shadows
To keep my thoughts from ill.
Last night too late I heard
My tongue cut down your teasing,
Your pride gave back no word
As the earth gives me no easing.
Now in the light of morning
Tell me your hurt is healed,
I swear I've done with scorning,
Hoeing beans in a field.