Cold Hub Press ~ Rogelio Guedea
freepost per copy – national & international
price NZ$29.95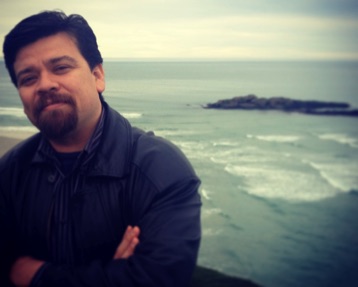 Rogelio Guedea
Si no te hubieras ido / If only you hadn't gone
with translations from the Spanish by Roger Hickin
and an introduction by Vincent O'Sullivan
ISBN: 978-0-473-28658-3
86 pp perfectbound paperback, 210 x 148mm
Rogelio Guedea (Mexico, 1974) is the author of more than forty books of poetry, essays, narrative, interviews and translations. Publications of his work in English translation include: Free fall (2009), and the novel The Brothers Corona (2014). His poetry collection Kora was awarded the prestigious Spanish Premio Adonáis in 2008. Exilio, a selection of poems from six collections appeared in 2011. His most recent novel, El crimen de Los Tepames, was a bestseller in Mexico. He is a columnist for several Mexican newspapers and is coordinator of the Spanish Programme at the University of Otago, Dunedin, New Zealand.
Roger Hickin is a New Zealand translator, poet and visual artist.
Si no te hubieras ido / If only you hadn't gone is a poignant and humorous series of poems exploring the mental state and post-separation daily life of an obsessive-compulsive writer, as he addresses his absent partner.
"As I read them I fell like an old tree gone in the roots. For a long time afterwards I remained still and stared at the sky, wondering what was broken. They are wonderful. They follow me around asking if I have seen what they have lost." ––Glenn Colquhoun
"The depth of these poems is in their directness, their assumption that candour in itself is an emotional force, as they offer as their driving conviction the daily glamour of appropriate use, love in the occasions of routine. This is a poetry that touches almost on elegy at one end of its scale, on celebration at its other. I don't know any other poetry written in New Zealand that does quite what these poems do, with their imperative of rapidly jotted notes, and yet that overarching confidence of sustaining form . . . And as we read them in English, how much depends on Roger Hickin's perfectly pitched translations, on their lucid accuracy and grace . . . I don't believe we can any longer talk about love poetry in New Zealand, or indeed about our contemporary poetry at large, without Rogelio Guedea now being a voice in that conversation." ––Vincent O'Sullivan
IX (5/11/2013)
Siempre que te vas encuentro
una forma nueva en el hueco que dejas: una forma nueva
para decir el árbol, la mar, un pájaro,
el suelo que piso, mis pies,
el cuaderno de la niña que va a la escuela,
un puente que une a dos países,
un muro que los divide,
este cielo azul, aquella bicicleta bajando la montaña,
un refrigerador vacío, tu pelo/
siempre que te vas encuentro una forma nueva
en el hueco que dejas,
pero de nada me sirve
si ya no te tengo.
IX (5/11/2013)
Always when you go I discover
something new in the hole you leave: a new way
to say tree, sea, bird,
the ground I tread, my feet,
the notebook of the girl who's off to school,
a bridge that links two countries,
a wall that separates them,
this blue sky, that bicycle racing downhill,
an empty refrigerator, your hair/
always when you go I discover something new
in the hole you leave,
but without you
it's no use to me.
© Rogelio Guedea 2014
translation © Roger Hickin 2014