Cold Hub Press ~ Blanca Castellón

Publication date: September 26, 2016
WATER FOR DAYS OF THIRST
selected poems
Blanca Castellón
Spanish & English
chosen with an introduction by Rogelio Guedea
translated from the Spanish by Roger Hickin
ISBN: 978-0-473-36719-0
Softcover, 192 pp, 210 x 145mm
Blanca Castellón (b.1958) is a poet of "fluent dryness", "emotional spareness", and "intimate acuity", "as light as foam and as sharp as a cut-throat razor" (Rogelio Guedea). She belongs to the post-Sandinista, post-utopian generation of Nicaraguan poets who presented a more individual, more intimate and enigmatic vision than the 'exteriorist' poetry that came out of the poetry workshops of Ernesto Cardenal's Ministry of Culture. As Guedea writes in his introduction, her poetry is not "a weapon loaded with the future" (Gabriel Celaya) but "an 'unknown island' ('insula extraña'), and this clearly links it to Pizarnik, Plath and Dickinson, but also to Ida Vitale and Idea Vilariño . . . poets with unique and genuine voices who stand apart from a lyrical status quo dominated by masculine voices." It is "a settling of scores with reality, a reality (inner and outer) perverse and out of order". Hers is a voice with "a syncopated rhythm of bitter upset . . . carefully honed, and torn, but not at the expense of her delicacy."
Of Cactus body, a 2014 chapbook of Castellón's work, Gioconda Belli wrote: "Blanca Castellón's poetry, in Roger Hickin's impeccable translation, possesses the great virtues of sassiness and surprise. It is full of trees with secret holes through which she slips into her own unique Wonderland where she is both Alice and the Queen of Hearts pulling an ace from her sleeve with a quiet flourish that turns everything upside down. Cactus Body is a small door which opens on to the world of wonder and beauty of an exceptional poet." Poet Michael Harlow wrote: "This is an excellent match of poet and translator: Roger Hickin's translations are clearly the work of a poet-translator who is nicely attuned to the thought-music of the originals, able to articulate the tensions inherent in a poetry that is willing to take risks with feeling in search of a language."
Rogelio Guedea is a Mexican poet, essayist and novelist. His poetry collection Kora won the prestigious Spanish Premio Adonáis in 2008.
Roger Hickin is a New Zealand visual artist, poet and translator.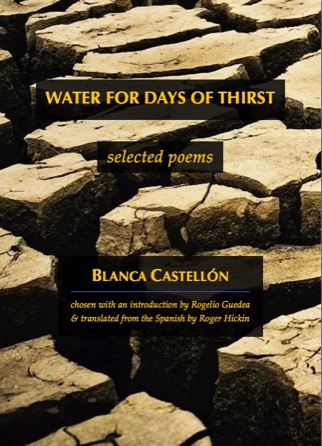 WHEN RAIN OUTDOES ITSELF
There are those who say rain
makes a tuneless din
––rivalling dead languages––
I weep in time to its crazy rhymes
what can I add to its
gratuitous song
but the downpour of my eyes
and my rebellious ways
for those who endure
the mischief
of its tiny hands.
translation © Roger Hickin 2016
freepost per copy – national & international
price NZ$39.95