Cold Hub Press ~ Karl Wolfskehl

Publication date October 30, 2017
Karl Wolfskehl
POETRY AND EXILE
Letters from New Zealand 1938–1948
edited and translated by Nelson Wattie
ISBN: 978-0-473-41050-6
Softcover, 464 pp, 210 x 145mm
price $NZ45.00
for New Zealand orders
free postage within New Zealand
German-Jewish poet Karl Wolfskehl spent the last years of his life, from 1938 to 1948, in Auckland, New Zealand, 'on the globe's last island reef', as a refugee from Nazi Germany. The conditions of his life forced him to consider the very nature of human existence, and his letters from New Zealand, many to friends and associates exiled around the globe, amount to an intellectual autobiography.
'I've always resisted, and today I proscribe for myself more than ever those thinking and feeling processes that begin with "If only I had …". Indeed, I say to you in my old age: today is when it all begins! We must plan, make ready and arrange things today for tomorrow. ––This is an example of the courage exemplified throughout this selection of Wolfskehl's letters. Always short of money and lacking his own language, family and friends, Wolfskehl made the best he could of his situation, and tried to keep the literary culture that had been his life alive and vital in the Antipodes. Wolfskehl is a true hero of those dark times.' –– C. K. Stead
Wolfskehl was described by Thomas Mann as 'a personality of European rank, holding an important and incomparable place in the history of the German spirit. As a poet and thinker, as an intimate friend and lifelong companion of the great German poet, Stefan George; as a promoter stimulating varied progressive movements of the twentieth century he was of great influence in significant spheres of arts and letters.'
During his Auckland years Wolfskehl got to know the formative generation of New Zealand writers: Frank Sargeson, R. A. K. Mason,
A. R. D. Fairburn (who dedicated his Poems 1929–1941 to Wolfskehl), Denis Glover and the acolytes of the Caxton Press and, to a lesser degree, Allen Curnow.
And here, despite almost total blindness, he would write or complete much of his finest work––the poems which make him a representative voice of his generation. But although 'the late phase in exile, born entirely from within' was for him 'the highest peak of my life's work', this displaced poet without readers, this gregarious, larger-than-life figure, would also write: 'What loneliness is, the encroachment of ice––no one knows it better than I, the dead air around me sucks marrow from my bones, the tree is split in the desert.'
Paul Hoffmann commented in 1969 that 'through Wolfskehl New Zealand has entered the history of German Literature'. With Poetry and Exile and the selected poems, Three Worlds / Drei Welten, translated and edited by Andrew Paul Wood and Friedrich Voit (Cold Hub Press, 2016), both Wolfskehl and Germany have secured a place in the history of New Zealand literature.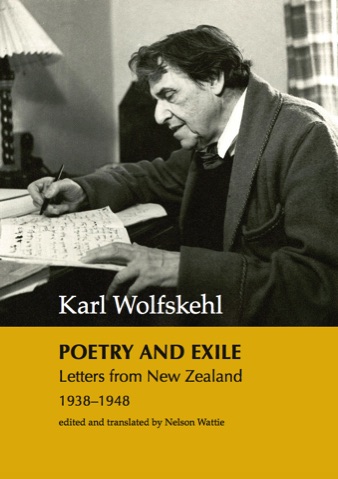 price NZ$65.00
for international orders
because of the weight of this book we regret
that for international customers we must charge
NZ$20.00 per copy towards the cost of postage