Cold Hub Press ~ David Howard

freepost per copy – national & international
price NZ$19.50
The Speak House
A Poem in Fifty-Seven Pentastichs
on the Final Hours in the Life of
Robert Louis Stevenson
by David Howard
with woodcuts by Robert Louis Stevenson
ISBN: 978-0-473-28364-3
Softcover chapbook, 32pp, 210 x 145mm
In The Speak House David Howard takes "the common phrase 'my life flashed before my eyes' as a signpost", and creates a "feverish tumble of impressions" that might have occurred in the final two hours of Robert Louis Stevenson's life, either just before or just after he lost consciousness. Howard's The incomplete poems was published by Cold Hub Press in 2011.
"a world in miniature in one densely packed chapbook poem" [Jack Ross Poetry NZ #48]
The Speak House was written while the poet was Robert Burns Fellow at the University of Otago, Dunedin, New Zealand, in 2013.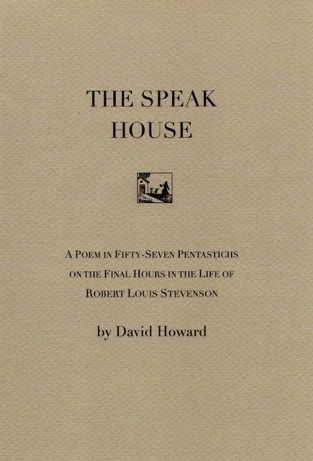 The wave never regrets breaking.
It was made to, and you and me . . .
We must give up what we cannot have
for ever, let the word go
its own way, the way of the echo.
When we stop so does the road.
Except that Vailima is real
when we're not there, however
little breath comforts our lungs
when we hear the last rites
if we hear them, if we follow
the light house on the sea
beyond the bar, beyond
all possibility of an house not made . . .
And then the wave, and then.
© David Howard 2104