freepost per copy – national & international
price NZ$40.00
Cold Hub Press ~ Robert McLean
Publication date: 06 April 2020
Robert Mclean
Enduring Love
ISBN: 978-0-473-51416-7
Softcover, 224 pp, 210 x 148mm
At the Rakaia, Lake Coleridge Basin
For Kate
We see the light as movement of the water––light
itself seems fluent. Quickened ice in limning flux . . .
Heavenly effluvium . . . Purled turquoise stippling
ardent silver. The sky's uninterrupted blue
pleats white-tipped bosky butte and fell. A wooden Star
of David crests a heap of frosty pinecones in
the plot behind us. A slight breeze sighs. The river flows
its easy way around the bend. You say––Paradise
is just around the corner. Where else could it be?
© Robert McLean 2020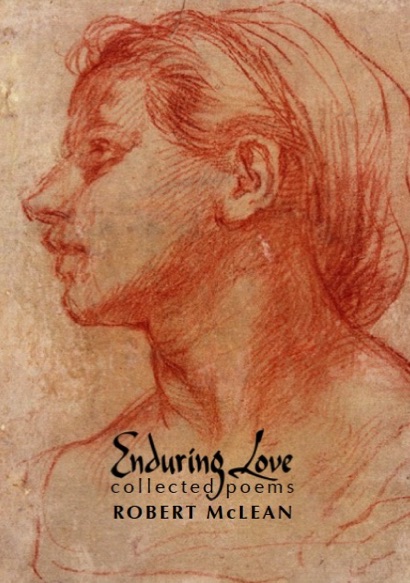 'When most of his contemporaries barely press the waxy ground, Robert McLean writes with an etching needle that exposes the base metal of our identity. However acid, his words show us more than we thought possible: the best of them uncover love.'
––David Howard
Robert McLean is a defiantly modernist poet who often uses traditional metres and rhyme to explore the complexities of history and selfhood. His intellectually cosmopolitan and questioning verse attempts to re-illuminate how acts of attention—by Nijinsky, Andrea del Sarto, David Esterley, Charles Fourier, John Mulgan and others—have sanctified, if only momentarily, the world with all its wrecks and wonders. Enduring Love features a generous selection of poems from his four previous collections; the sixty-two sestet tour de force 'A Graveyard by the Sea'; and more than thirty new poems, including two long sequences: 'The Passions of William Colenso' and 'A Fantasia in the Voice of D'Arcy Cresswell'.
Robert McLean was born in Christchurch in 1974 and educated at Mairehau High School and the University of Canterbury. He is the author of five collections of poetry: For the Coalition Dead (Kilmog Press, 2009), For Renato Curcio (Gumtree Press, 2010), Goat Songs (Kilmog Press, 2011), A Graveyard by the Sea (Cold Hub Press, 2012), and Figure & Ground (Cold Hub Press, 2018). His work has featured in a number of anthologies, including Essential New Zealand Poems (2014). McLean is also known as a literary critic and as the editor of such books as From Cairo to Cassino by Dan Davin and No Traveller Returns, the selected poems of Ruth France.
CHOSEN AS ONE OF THE NZ LISTENER'S TOP TEN POETRY BOOKS OF 2020