freepost per copy – national & international
price NZ$19.95
Refugees, philosophers, Mesolithic woodworkers, Napoleon, Tarkovsky, Anne Sexton, John Mulgan and Dan Davin are just some of the people we meet, as we journey from the Canterbury Plains to Ravenna and back
to Island Bay, in this collection of 26 new poems of people, places and ideas by Robert McLean.
Robert McLean (b. 1974) holds an MA and an MFA from Canterbury University and is the author of four collections of poetry: For the Coalition Dead (Kilmog Press, 2009), For Renato Curcio (Gumtree Press, 2010), Goat Songs (Kilmog Press, 2011) and A Graveyard by the Sea (Cold Hub Press, 2012). His poems have been included in a number of anthologies, including Essential New Zealand Poems (RHNZ Godwit, 2014), and he was the featured poet in Poetry New Zealand 46. He recently edited A Field Officer's Notebook, the selected poems of Dan Davin. Robert McLean lives in Featherston and works in Wellington for the New Zealand Government.
"McLean's work . . . references the great Western literary and philosophical/theological traditions, often engages directly with the world and has a degree of playfulness even in its more sombre reflections."
––Nicholas Reid
"an admirable and formidable piece of work"
––Nicholas Reid on A Graveyard by the Sea
Publication date: October 15, 2018
FIGURE & GROUND
Poems 2012–2018
Robert McLean
ISBN: 978-0-473-45084-7
Softcover chapbook, 52 pp, 210 x 148mm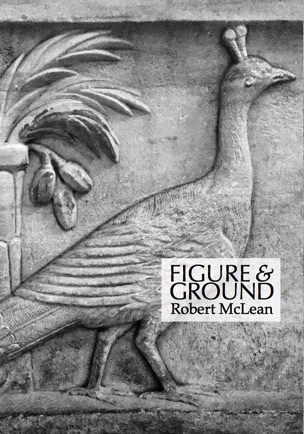 Cold Hub Press ~ Robert McLean
At the Tomb of Galla Placidia
Stars hold sway in this little place,
fixed upon the vaulted ceiling
by god-knows-who, whose wilful grace
no longer sets the heavens reeling.
Artifice ensured this constellation gleams,
even now. Of course, slowly but surely,
wheeling planets negate orderly dreams.
Not so for those who came before me.
Foundations sink and visions fade.
And yet Gospellers still look down on us
and calmly smile. All that we've made
in their name seems gloriously ridiculous.
Alabaster portals cast little light
on succeeding European disasters,
which are but momently out of sight.
Such monuments will outlast us.
After half-an-hour or so, we depart,
intending to return another day.
We venture on towards more art,
Roman sarcophagi lining the way.
Time, which despoils castles, enriches verses.
Hymning to the rafters gods and man,
we make monuments of blessings and curses,
despoiling, enriching, time and again.
© Robert McLean 2018