freepost per copy – national & international
price NZ$27.50
Cold Hub Press ~ Dunstan Ward
Publication date: 07 October, 2019
Dunstan Ward
At This Distance
ISBN: 978-0-473-49273-1
Softcover, 88 pp, 210 x 148mm
Many of the poems in Dunstan Ward's second collection are set in France, where he has lived since 1973. Some look back to his New Zealand childhood, others are aphoristic or commemorative. In his Landfall Online review of Ward's first collection, Beyond Puketapu (Steele Roberts, 2015), Denys Trussell praised him as a poet with "an intellectual power that sees issues without in the least 'drying up' the poetic anima within him".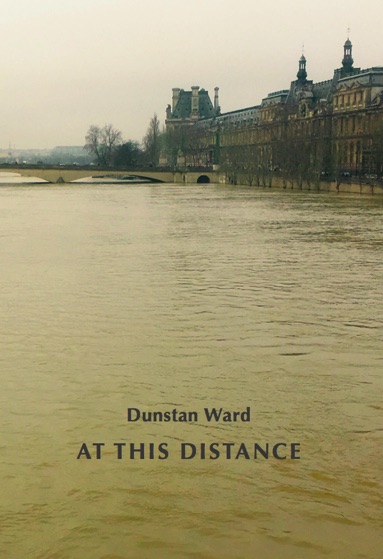 All at Once
An elongated black barge slides like a slender eel
protractedly downstream under the central arch
of the pont du Carrousel, migrating back to Le Havre
faster now, though not as fast as the homing gulls
whirling overhead, leaves on the evening wind,
just as a pair of buses retracing their same route
cross from opposite ends of the bridge to merge,
each with its doppelgänger, above the gliding péniche,
and along the berge a couple of hand-in-hand lovers
strolling below the thinning yellow black poplars
are passed without a glance by a solitary jogger,
while along the other bank the flood-lit Louvre parades
its grandiose façades, reign on vainglorious reign,
glittering in the ceaseless seaward-pressing swirlings
of the Seine high in flood, alluringly suicidal,
hasty transcriptions meantime blackening the paper
till all at once I feel the merest touch on my shoulder––
a yellow leaf out of the tattered book of the year
that I take and put between the pages of my notebook.
© Dunstan Ward 2019