freepost per copy – national & international
price NZ$28.00
Cold Hub Press ~ John Weir
Publication date: 01 September 2021
SPARKS AMONG THE STUBBLE
John Weir
ISBN: 978-0-473-58442-9
Softcover, 88 pp, 210 x 148mm
The Farm
Even now the images jostle in my mind––
the tangle of blackberries at Harvey's Corner
the bruised apple I found once on a toppled tree
the log lying for months in the sawpit
a scatter of red hens fossicking in the orchard
cream clotting in the blue bowl in the dairy.
My aunt, who struggles to remember things,
looks at me blankly when I mention the farm
but with me it's different––all too often it aches
inside me as if I'd become pregnant with it
and it was completely stuck in the birth canal
incapable of being delivered
or as if, while hanging out at Harvey's Corner,
I'd swallowed a handful of tart blackberries not
ripe enough for eating.
© John Weir 2021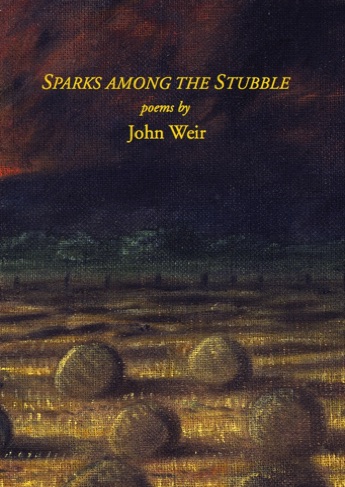 Sparks among the Stubble offers glimpses of the incompleteness of life and the fallibility of our endeavours
in terms of family relationships, of events in society at large, of the lives of particular writers, and of our progression towards death––one of its key themes being that as a result of effort and tribulation people of every time and place may come to shine like sparks among the stubble. Such insights are perhaps attributable to John Weir's vocation as a priest as well as a poet.
"There is a telling moment in Sparks among the Stubble when the poet recalls how, at war's end, a trench dug at the edge of his school's playground was converted into a garden. He remembers lavender and a flower known as 'Johnny Jump Up'. Harking back to the beginning of a century that perfected trench warfare, the flower's name strikes a solemn note. Yet John Weir's gift as a poet is to step beyond the past and wholeheartedly embrace the present. He loses himself in the writing of others; he bathes in coastal weather; he is alive and 'still astonished'. He jumps up." ––Gregory O'Brien
John Weir was born in Nelson in 1935. Four collections of his poetry appeared between 1963 and 1983: The Sudden Sun, The Iron Bush, A Warning against Water-Drinkers, and Treading Water. Since then he has mainly been engaged in editing major collections of the writings of James K. Baxter, including his Complete Prose (2016), Letters (2018) and Complete Poems (2022).