Ruby @ four months wakes at night
Some babies sleep through
but not you, Ruby.
Our fault for telling you
all the songs that contain a Ruby
partying
Ruby Red Dress
Ruby Soho
Thru the Eyes of Ruby
Ruby, Don't Take Your Love to Town
Ruby Tuesday
Ruby's Arms
Ruby O Ruby
Ruby Baby
Ruby Duby Du
© Elizabeth Smither 2013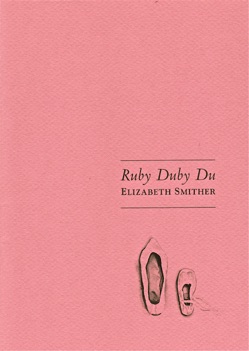 Cold Hub Press ~ Elizabeth Smither
Ruby Duby Du
Elizabeth Smither
ISBN 978-0-473-26830-5
Softcover chapbook 40pp, 210 x 140mm
"Some names attract songs and some don't.
Ruby, everything's fine in the music line."
Ruby Duby Du is a suite of 28 delightful poems written by Elizabeth Smither for her granddaughter, Ruby. They begin with conception and end with a family gathering where Ruby counts stars. They progress through an amusingly competitive grandmother and grandfather, sleeplessness, an heirloom dress and Ruby at an Italian restaurant where she takes a bite out of a polystyrene pillar – the day to day life of a little girl and her grandmother. Elizabeth Smither, who has been New Zealand poet laureate, Hon D. Litt (Auckland) and winner of the Prime Minister's award for Literary Achievement in Poetry 2008, says that none of these compares with being a grandmother.
With 7 small watercolours by Kathryn Madill, a printmaker and painter who occasionally strays into the world of publishing with an image or two.

Ruby Duby Du is "a gold nugget of a book and deserves to be under the pillow of every new mother and father, and in the gift box of every newborn child. It is an utter delight from curling fingertip to wriggling toe."
–Paula Green, NZ Poetry Shelf.