freepost per copy – New Zealand only
NZ$42.50
Publication date: 03 October 2022
Roderick Finlayson
A Man from Another World
a biography by Roger Hickin
ISBN: 978-0-473-64739-1
Softcover, 288 pp, 210 x 148mm
Cold Hub Press ~ Roderick Finlayson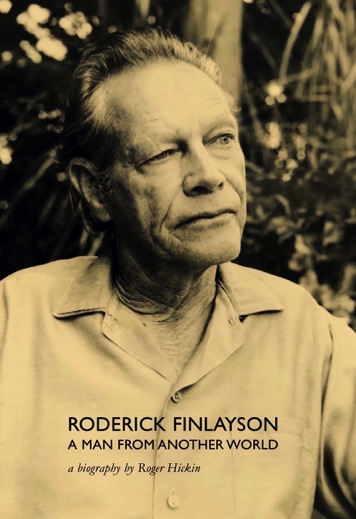 Roderick Finlayson (1904–1992), storyteller and prophet, was one of the pioneering New Zealand writers who emerged in the 1930s. Vincent O'Sullivan once described him as 'our first writer to move with any ease or authenticity among the most vital traditions this country has'. Brown Man's Burden, his first and best-known collection of short stories, was published in 1938. His friend, the Australian poet Bruce Beaver, called him a 'maker of stories about men and women in unremarkable, comical, tragical situations' who 'once lived with the Maori people as an adopted son and now chronicles the comedie humaine and that of the Pakeha, nervous usurper.' His story-telling was direct and unsentimental in its sympathy for the inarticulate, the foolish, the poor and the dispossessed. Years ahead of its time, his prophetic voice was raised on behalf of the environment and race relations in a stream of polemical essays, articles and letters.
This long overdue biography of Roderick Finlayson draws from his unpublished memoir, 'Scenes from a Writer's Several Lives', and from his correspondence with his friends D'Arcy Cresswell, Frank Sargeson, Bruce Beaver, James K. Baxter, O. E. Middleton, and the Greek artist Lydia Sarri.
A Roderick Finlayson Reader, a selection of stories, essays, memoir, poems and letters, was published by Cold Hub Press in 2020.
'It was D'Arcy Cresswell who encouraged me to write those stories,' Finlayson records in 'Scenes from a Writer's Several Lives'. Cresswell, when Finlayson got to know him in the mid-1930s, was in his forties, a published 'poet, philosopher, prophet, critic of society and single-handed destroyer of the modern world, all in one'. In December 1931 he had returned from England, where he had mingled with the Bloomsbury set, and the previous year his autobiography, The Poet's Progress, had been published to some acclaim by Faber and Faber. Now he was leading a hand-to-mouth existence, a 'ragged life of choice', in a bach––a 'pavilion in the scrub'––at Castor Bay on Auckland's North Shore. Finlayson had written to him and they had arranged to meet at the Society of Arts in the Victoria Arcade building on the corner of Queen and Shortland Streets where Cresswell was sitting for the painter Allan Barns-Graham for the portrait that would appear as the frontispiece to his poetry collection Lyttelton Harbour. 'He wore old baggy grey slacks, a lumberjacket the worse for wear and a cheap cloth cap of European type. If his face and manner suggested the troubadour there was something of the Paris apache about him too. Later he told me that police everywhere eyed him with suspicion.' They adjourned to the noisy bar of a nearby hotel on the corner of Fort Street where Cresswell put the young writer at ease and invited him to visit him at Castor Bay. 'This slim dark man with arresting eyes impressed me immediately in a way no one else ever had. I felt the presence of an authority that might be questioned but never disregarded.' Finlayson was soon a frequent visitor at the bach.
Cresswell described their meeting in the second volume of his autobiography, Present Without Leave: 'About now I met Roderick Finlayson, a young artist and writer of remarkable promise, who helped me more than in prudence he ought, and on two occasions paid all my debts for me; for which, in return, I gave him all the advice and assistance I could in his work.' Some years later Finlayson would acknowledge that Cresswell 'more than I can easily estimate, helped me to train some small talent that, if honest and original enough in its own way, was still uncertain and undisciplined'.
NZ$62.50 for international orders
Because of the weight of this book we regret
that for international customers we must charge
NZ$20.00 per copy towards the cost of postage.