Cold Hub Press ~ Katharina Müller

Publication date October 1, 2017
The Homeland
Katharina Müller
with translations from the German by Matthew Landrum
ISBN: 978-0-473-41179-4
Softcover chapbook, 48pp, 210 x 145mm
Katharina Müller's poetry circles around questions of home, distance, and absence. Born in 1989 in Heppenheim, Germany, she studied linguistics and Scandinavian languages at Humboldt-Universität zu Berlin. She lives in Berlin where she works for a publisher of audio plays for children. Her work has appeared online & in Fjords Review. This is her first book.
Translator Matthew Landrum is associate editor of Structo Magazine. His translations have recently appeared in Agni, Image Journal, and Anomaly. His translations of the Faroese poet Agnar Artúvertin, "The lonesome savior/ Hin einsami frelsarin", were published by Cold Hub Press in 2015.
freepost per copy – national & international
price NZ$19.95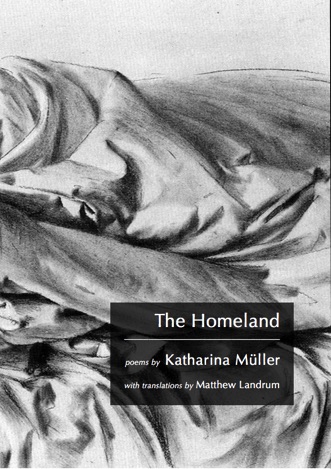 hast du ein zimmer für mich in weimar?
so fängt es meistens an
wir glauben nicht, wenn wir uns sagen
dass wir uns sehen
dass es schon geht
morgen bin ich in der stadt
heimat steht auf einem briefkasten
zu dem längst keiner mehr einen schlüssel hat
© Katharina Müller 2017
do you have a room for me in weimar?
that's how it usually begins
we don't believe it when we tell ourselves
that we'll see each other
that it's going to work out
tomorrow i'm in the city
there's a letterbox labelled homeland
but no one has the key anymore
translation © Matthew Landrum 2017