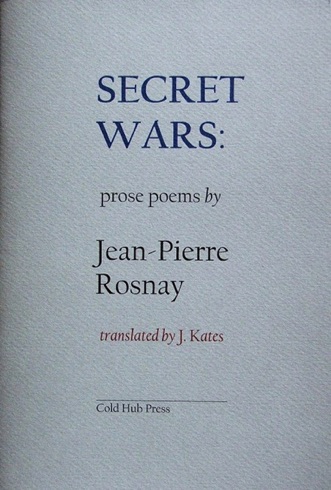 Secret Wars
Jean-Pierre Rosnay
translated by J.Kates
ISBN: 978-0-473-16829-2
Softcover chapbook. 28pp
English translations of seventeen prose poem meditations on love, death, war & liberty. Fine translations by Kates who knew & worked with Rosnay.
nothing is better for me now
than drinking rain mixed with lightning,
without lips and without expression
("Line 7")
French poet Jean-Pierre Rosnay (1926 – 2009) was a central figure of the literary & artistic generation of the 1950s: the irreverant, 'countercultural', engagé heirs of Éluard & Desnos. Some of his most powerful poems are drawn from his experience as a teenager in the Resistance when he survived arrest by the Gestapo for the attempted assassination of Klaus Barbie. His mission in life was, he said, 'to make poetry contagious & inevitable'.
J.Kates is a poet & literary translator who lives in Fitzwilliam, New Hampshire, USA. He is the translator of When a Poet Sees a Chestnut Tree (Green Integer Press 2009), the first major collection of Jean-Pierre Rosnay's poems in English.