Cold Hub Press ~ Michael Morrissey

Publication date: June 25, 2018
POEMS FROM HOTEL MIDDLEMORE
Michael Morrissey
ISBN: 978-0-473-43853-1
Softcover, 40 pp, 210 x 148mm
Everyone who is here deserves to be
no possibility of a mistake
doctors do not err
a privilege to know I am a participant
in an enterprise which cannot commit a blunder
Poems from Hotel Middlemore, Michael Morrissey's 23rd book and his 12th book of poetry, casts a wry but compassionate eye on life in a New Zealand psychiatric ward: "I'm in the best hotel in the world / grandest view / hot and cold running / but it's a psychiatric ward / everyone mad except me / and I too am mad / as a butchered snake / ram-raided by delusion / I have bipolar disorder which comes / and goes / of its own free will." From Hotel Middlemore Michael Morrissey, "God's blue astronaut / lonely but unafraid", takes us on a journey from a psychiatric ward to "beyond infinity / and back again".
Michael Morrissey (b. 1942) is the author of eleven books of poetry, two short story collections, three short novels, one full length science fiction novel and a memoir. He has also edited five books, mainly short story anthologies. His first volume of poetry Make Love in all the Rooms was published by Caveman Press in 1978. In 1979, he was the first Writer-in Residence at the University of Canterbury and in 1985 the first New Zealand participant in the University of Iowa's International Writing Program. In 2012, he was appointed the Writer-in-Residence at the University of Waikato. His anthology The New Fiction (1985) was the first anthology of New Zealand postmodern fiction. His more than 80 published short stories range from neo-social realism to the surreal and the postmodern. A film by Costa Botes of Morrissey's short story "Stalin's Sickle" won the Grand Jury Prize at the Clermont-Ferrand Short Film Festival in France in 1988. A feature-length documentary by Botes, Daytime Tiger (2011), deals with Morrissey's experience with manic depression (aka bipolar disorder), also the subject of his 2011 memoir, Taming the Tiger.
Smallest country
Hotel Middlemore is the smallest country on earth
tinier than the Vatican
yet more secure
you couldn't escape in a laundry basket
or by disguising yourself as a psychiatrist
the pope visits on Thursdays
and gives his blessing
though not the escape key
looking out the window
you dream of running naked
across the fairway
distant and green
like a romantic version of the future
a Bycroft boy on the biscuit tin
receding into an infinite past
© Michael Morrissey 2018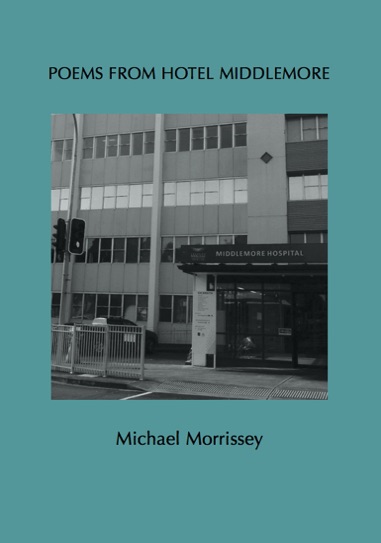 "Blue seems an appropriate colour for the cover of esteemed author, Michael Morrissey's twelfth collection. Blue because the subject explored here is one the author has skillfully explored throughout his oeuvre, mental health. The title speaks of the hospital his psychoses sent him to, while the poems explore the diaspora of insanity, Morrissey's mother's, his own and those of fellow psychiatric patients. It would be easy for the verses, like the cover, to demonstrate desolation and depression. Rather poems such as 'I'm crazy and I can prove it' and 'Someone is not mad in the looney bin' offer a rare tenderness and poignancy. The result is a powerful collection by a writer who delivers his work with empathy and bite." ––Siobhan Harvey, NZ Herald.