freepost per copy – New Zealand only
NZ$45.00
Rāwaho: outsider, foreigner. The poet writes:
"Many uncollected pieces served as preparatory studies for these 150 titles. Since my first tentative airing of the early drafts in 1991 there have been regular staging posts, in 2001 and 2011 respectively—the latter (The Incomplete Poems) with a note from Brian Turner: "When David Howard calls his work 'incomplete' he is, I think, reminding us that just about everything, not just poems, is work in progress; hence 'incomplete'." And that still seems true, or at least no less true than it seemed then. What has changed with age ("decades destroy / your eye's glister") is my ability to hold indefinitely the weight of inchoate drafts. This book has thousands of lines but in making it I am drawing one line. Another decade has gone, I'm done. This is the best I can do."
Kapka Kassabova has written: "Howard's greatest lyrical power is in apprehending the elusive. His is a poetry of the vanishing, of the shifting elsewhere, of loss lurking within the moment . . . the cerebral blends with the visceral with a brilliant lightness of touch."
Born in 1959, David Howard co-founded the literary journal Takahē (1989) and the Canterbury Poets Collective (1990) in his home town, Christchurch. He was the editor of A Place To Go On From: the Collected Poems of Iain Lonie (Otago University Press, 2015). The writing of Rāwaho: the Completed Poems has been supported by the Robert Burns Fellowship at Otago University (2013); the Otago Wallace Residency (2014); a UNESCO City of Literature Residency in Prague (2016); the Ursula Bethell Residency at Canterbury University (2016); the Writers' House Residency, Pazin, Croatia (2017); the Grimshaw Sargeson Residency (2018); and a UNESCO City of Literature Residency in Ulyanovsk (2019).
from 'The Speak House'
When I went into silence, then
he could follow me. Everything made
makes sense. When I said
nothing, he saw the thing
rather than my failure to say it.
The wave never regrets breaking.
It was made to, and you and me . . .
We must give up what we cannot have
for ever, let the word go
its own way, the way of the echo
if we hear clearly, if we follow
the light house on the sea
beyond the bar, beyond
all possibility of an house not made . . .
And then the wave, and then.
© David Howard 2022
Publication date: 05 September 2022
DAVID HOWARD
RĀWAHO
THE COMPLETED POEMS
ISBN: 978-0-473-61997-8
Softcover with flaps, 344 pp, 235 x 180mm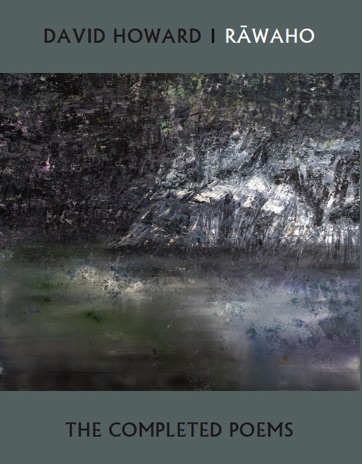 NZ$70.00 for international orders
because of the size of this book we regret
that for international customers we must charge
NZ$25.00 per copy towards the cost of postage