Cold Hub Press ~ Carlos Martínez Rivas

Publication date: October 3, 2016
THRENODY FOR JOAQUÍN PASOS
& other poems
Carlos Martínez Rivas
Spanish & English
with translations by Roger Hickin
ISBN: 978-0-473-36750-3
Softcover, 112 pp, 240 x 160mm
Hacer un poema era planear un crimen perfecto.
Era urdir una mentira sin mácula

hecha verdad a fuerza de pueza.
To make a poem was to plan the perfect crime.
To contrive an immaculate lie
whose purity made it true.
[Canto fúnebre a la muerte de Joaquín Pasos / Threnody for Joaquín Pasos]
There are few English translations of the great and often difficult Carlos Martínez Rivas (1924–1998), a passionate and linguistically brilliant Nicaraguan poet – celebrated throughout the Hispanic world, but still almost unknown to English readers – who raised a "solitary insurrection" against society's oppressive orthodoxies and hypocrisies. A handful have appeared over the years in journals and anthologies, but these are the first to be published as a collection. An aversion to public success and its trappings, along with a dread of typographical errors, contributed to his reluctance to see his work in print, and El paraíso recobrado (Granada, 1943) and La insurrección solitaria (Mexico, 1953, reprinted numerous times) were the only books of his poetry he permitted to be published in his lifetime. The first was a long metaphysical love poem published when he was only eighteen, the latter included what is widely regarded as his masterpiece, "Canto fúnebre a la muerte de Joaquín Pasos", a funeral poem for his great friend and fellow poet, Joaquín Pasos, who died in 1947 at the age of 33. In Los Años de Granada (2002) Ernesto Cardenal has written of the young Martínez Rivas: ". . . I never knew anyone, anywhere, with the genius for poetry Carlos had in those days. Add to this his fabulous memory, his scintillating conversation, his charm, his sense of humour, his guitar. Lorca must have been just like him." Alcoholic in later life, and "at the mercy of his art" (to borrow John Berryman's phrase about Mozart), he could be "difficult, problematic, solitary . . . One had to approach him with caution" (José Coronel Urtecho in Conversando con Jose Coronel Urtecho, ed. Manlio Tirado, 1983). His collected poems, Poesía Reunida de Carlos Martínez Rivas (Anamá Ediciones, Managua), edited by Pablo Centeno-Gómez, was published in 2007. Como toca un ciego el sueño (Anamá Ediciones, Managua), an anthology chosen by Centeno-Gómez, appeared in 2012.
"Few poets have loved and hated life as much as Carlos Martínez Rivas. His whole oeuvre is one of rebellion and daring, of a profound tenderness and an irrepressible anger." ––Nicasio Urbina
"A lone voice . . . at once surreal and deeply human." ––Rogelio Guedea
"Our extraordinary wild cat who once took the elite of Spanish America by surprise . . . who remained at the margins he favoured, untamed and unique . . . our greatest poet after Darío." ––Blanca Castellón
freepost per copy – national & international
price NZ$39.95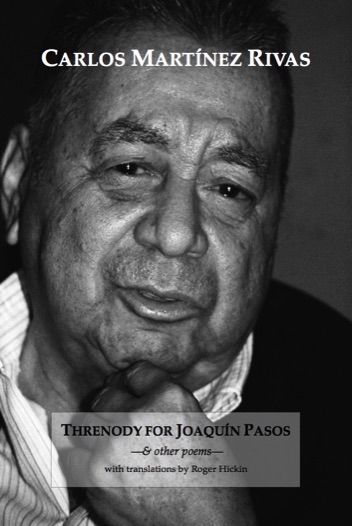 How hard it is to battle the watery Olympus
of the frogs. From when they're little
they're thoroughly drilled in the practice of Nothing.
It's essential that we strive
to recognize the other. But few
among the smoke and mockery agree.
Even so, my dear Joaquín, we carry on. Don't worry.
We'll redouble our ritual bardic rancour.
Our happy little leaps of loathing.
Our snake of twittering.
And Love will win.
Drift on in the quiet waters of your dream.
And if there was anything you betrayed in dying,
that was your affair.
An old hand at betrayals,
I won't be judging you.
Nor will I
raise my voice against Death.
Poor thing, as always, frightened of her power,
she blushes at the utterance of so much grief for the dead.
from Threnody for Joaquín Pasos
translation © Roger Hickin 2016