freepost per copy – national & international
price NZ$19.95
Cold Hub Press ~ Peter Olds
Woman and Man
after Marc Chagall's La Joie
Paris is blue tonight––
blue the girders of the Eiffel Tower
against the woman's pleasure.
She sees the gift of flowers
a rival lover brings:
it means an adjustment to her clothes . . .
The man is taller than the woman,
and like all beginnings of love stories
music flows like water.
Against the woman's pleasure
a violin scrapes the moon––
the two lovers weep to the tune.
And as a horse and an angel float
across the sky the lovers stand tall
locked in a deepening blue.
© Peter Olds 2019
Publication date: January 28, 2019
Under the Fuchsia Tree
Peter Olds
ISBN: 978-0-473-46655-8
Softcover chapbook, 32 pp, 210 x 148mm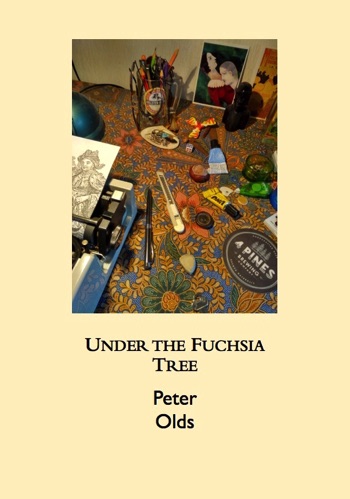 Under the Fuchsia Tree is a chapbook of 16 poems written after reconnecting with an old flame from half
a century ago . . .
"Kate & I met in a youth club called The Grotto, in Freeman's Bay in the early 1960s. Her family were immigrants after the war from the UK & lived in council flats at the bottom of Wellington Street, not far from The Grotto.
Housed in an old church hall The Grotto provided space for youth to congregate, play pop records, dance, drink Coca Cola & eye up the 'talent'. The boys parked their cars on a rough patch of ground where the church had been before its demolition. The church hall remained & was used for social events. On Sundays church volunteers gave out clothes & dished up meals to shell-shock methos.
When Kate & I split up (as inevitably teenage first-loves do), I left Auckland & headed south, & I didn't hear from her again for 54 years when, out of the blue, a 'friend' request popped up on Facebook."
Mr Olds' previous outings with Cold Hub Press include the chapbooks Ballad of the Last Cold Pie and Journey to the Far South, You Fit the Description (selected poems) and his most recent collection Taking My Jacket for a Walk.