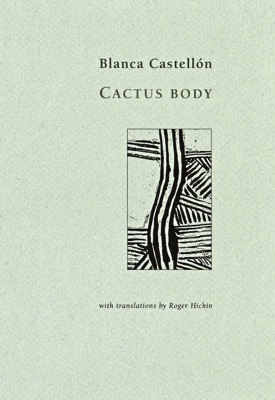 Alumbramiento
Ha nacido un poema
en la muerte de hoy
solo
muy solo
tiene cuerpo de cactus
almacena agua
para los días de la sed.
Birth
In the midst of today's death
a poem was born
alone
so alone
its cactus body
stores water
for days of thirst.
© Blanca Castellón 2013
Translation © Roger Hickin 2013
Cold Hub Press ~ Blanca Castellón
Cactus body
Blanca Castellón
with translations from the Spanish by Roger Hickin
ISBN 978-0-473-26533-5
Cold Hub Press
Softcover chapbook 44pp, 210 x 148mm
Blanca Castellón (b.1958) is a celebrated Nicaraguan poet whose books include Ama del espíritu (1995), Flotaciones (1998), Orilla opuesta (2000) and Los juegos de Elisa (2005).
"Blanca Castellón's poetry, in Roger Hickin's impeccable translation, possesses the great virtues of sassiness and surprise. It is full of trees with secret holes through which she slips into her own unique Wonderland where she is both Alice and the Queen of Hearts pulling an ace from her sleeve with a quiet flourish that turns everything upside down. Cactus Body is a small door which opens on to the world of wonder and beauty of an exceptional poet." ––Gioconda Belli
"Blanca Castellón's poetry is both as light as foam and as sharp as a cut-throat razor." ––Rogelio Guedea
"Blanca Castellón strikes me as poet nicely attuned to the sensibilities of how the heart knows more than all else the head may get up to in making poems. It is the sometimes ex-centric curves of her imagination, and the striking images that show more than they appear to say. It is most often, in this selection, the resonances of the pitch of language that go beyond mere 'invention' to the deeper poetic reach of discovery. This is an excellent match of poet and translator: Roger Hickin's translations are clearly the work of a poet-translator who is nicely attuned to the thought-music of the originals, able to articulate the tensions inherent in a poetry that is willing to take risks with feeling in search of a language, and (always a distinctive mark of a translator wholeheartedly engaged with the language and the culture of the language) he very wisely doesn't get in the way of the originals. As poète interprète, he gives us poems in English that stand strongly in their own right." ––Michael Harlow
Roger Hickin is a New Zealand poet, translator and visual artist, and editor of Cold Hub Press.
freepost per copy – national & international
price NZ$19.50