freepost per copy – national & international
price NZ$19.95
Cold Hub Press ~ Peter Olds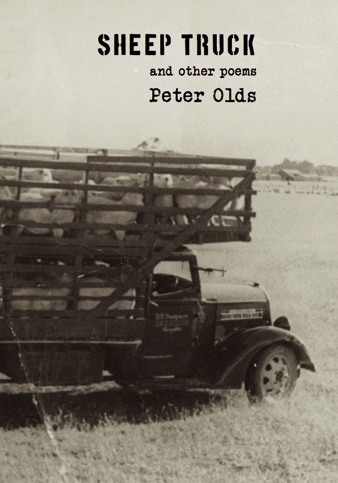 Sheep Truck
So this is what it's like being on an aeroplane
in a window seat, having a whole window
to myself, jammed in with all the others
who only have their woolly bums exposed . . .
Here we are up before dawn, loaded, packed
& on our way.
Is this the last I see of my family?
We have no suitcases––
we only have our winter coats . . .
We rip down the runway like a train:
bells ringing, tires screaming.
Faces fly by at a distance . . .
Very quickly we are above the clouds.
The view is spectacular:
First there are rivers,
then, snow-capped mountains.
How high can a sheep truck fly!
I see my lambhood down there
among the crab-apple trees, the apricots.
The banks of the Clutha we loved to play on.
I don't want this trip to end.
I never thought I'd get the chance to fly in an aeroplane.
I don't know where we're going but I know we won't be back . . .
I've got a window seat which is quite rare for a sheep.
They said everything we need for our journey
will be waiting for us when we reach our destination.
We must be getting close, our wheels just touched the runway.
I see trees, shops, traffic lights flash by––
and a sign on a lamppost that says 'GREAT KING STREET'.
© Peter Olds 2022
Sheep Truck is a collection of 29 new poems by veteran Dunedin poet Peter Olds. Subjects include flying, dental treatment, encountering Charles Bukowski in the Dunedin Public Library, and not wanting to get out of bed. He writes his 'last poem', which proves not to be his last poem, has the occasional gripe about aging ('I could show you how I once drank wine/& danced on table tops––but I can barely/climb into a chair now') and leaves us with a 'rough draft' of a Good Friday lockdown poem ('There's a boy on a cross, dying. God knows/why: he's so young, so green & so kind.'). This is Mr Olds' sixth outing with Cold Hub Press, the major one being his selected poems, You fit the description. He was recently honoured with a plaque in the Dunedin Writers Walk.
Publication date: 09 May, 2022
Sheep Truck
Peter Olds
ISBN: 978-0-473-62734-8
Softcover chapbook, 48 pp, 210 x 148mm