freepost per copy – national & international
price NZ$19.95
Cold Hub Press ~ Joaquín Pasos
A POEM GOES ABOUT ON FOOT is a bilingual selection of twenty-one poems with translations from the Spanish by New Zealand translator Roger Hickin. Joaquín Pasos (1914–47) was a precocious Nicaraguan poet who by the time he was sixteen was one of the pillars of the experimental Vanguardia group. His work, which ranges from playful lyrics to the apocalyptic masterpiece 'Canto de guerra de las cosas', appeared in journals at home and abroad, but he never published a book. Although he never travelled, in his poetry he was, as Ernesto Cardenal noted, 'the most travelled of Nicaraguan poets'. He sometimes wrote in 'inexplicable English', and was the first poet to attempt to enter the world of the indigenous Nicaraguans.
Cardenal wrote of him: 'Joaquín was very happy, and at times, bohemian. He gave himself up to a life of revelry which was more than his delicate body could withstand, although he was also deeply religious. In that life he squandered all his money without a thought for tomorrow and squandered his imagination and his talent and his time and his health. He squandered his life, and died an early death.'
Almost unknown to English-language readers, Joaquín Pasos is one of Nicaragua's most important and beloved poets. While some English translations of his poems have appeared in journals and anthologies, this is the first bilingual Spanish/English volume devoted to Pasos to be published.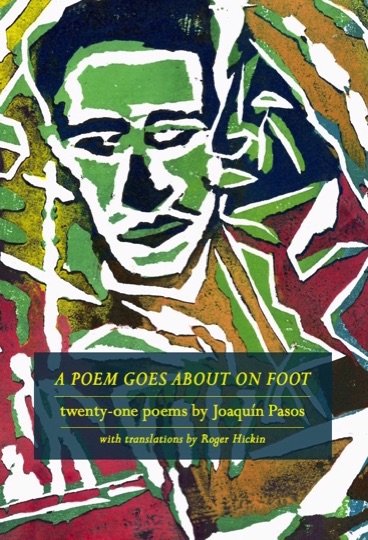 NOSOTROS
Estamos desamparados en el mundo hediondo,
el aire se ríe de nosotros,
el agua se ríe de nosotros.
El fuego se va, no podemos guardarlo solo,
te digo que se ríe de nosotros.
Para tener el árbol, necesitas sembrarlo en el lodo,
para tener el lodo, necesitamos morirnos nosotros.
La fruta que te comes, fue tu abuelo hecho polvo,
más tarde tu cabeza será un coco,
los árboles se ríen de nosotros.
El aire que respiras se sale por dos hoyos,
el agua que te bebes se sale por los poros,
se burlan los lagartos, se burlan los garrobos,
los animales se ríen de nosotros,
estamos desamparados en el mundo hediondo . . .
US
We are abandoned in this stinking world,
the air laughs at us,
the water laughs at us.
The fire goes out, we can't watch it alone,
I tell you it laughs at us.
To have a tree you must plant it in mud,
to have mud we must die you and I.
The fruit you eat was your grandfather's dust,
by and by your head will be a coconut,
the trees laugh at us.
The air you breathe escapes through two holes,
the water you drink escapes through your pores,
lizards make fun of us, iguanas make fun of us,
the animals laugh at us,
we are abandoned in this stinking world . . .
translation © Roger Hickin 2020