Publication date November 14, 2017

freepost per copy – national & international
price NZ$29.95
Marlene Dietrich in Gore
for the Gold Guitar Awards
Marlene is waiting in the street,
her breath in the night
a silhouette. She shivers and shrinks
into her coat, swansdown
scraping the gutter. It was never
meant for this.
Marlene is waiting under a street light,
guitar at her feet in its
well-travelled case.
They are scheduled to sing
after the break. He promised
to be early.
Even in gloves her fingers
grow numb, her fists
tighten. Soon she won't
be able to play, the ripple of strings
too slow, soon her honeyed voice
will ice over.
Marlene is waiting, even
through the last duets,
a blonde Venus always falling
in love with love. Inside, the judges
shake their heads
and cross her out.
© Jenny Powell 2107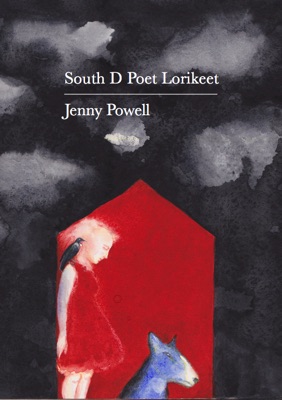 I am the bird who appears in your dreams
I am the bird whose song you hear
I am the flash of feathered blaze
I am still a surprise to you
In South D Poet Lorikeet Jenny Powell, with her customary acuteness and lightness of touch, writes of girlhood, difference, displacement, losing one's footing, peering into the looking glass. Permeated with colour, time, identity and love, these new poems deconstruct and reconstruct and curve in unexpected directions, with key words that repeat and bind like fine strands, and themes that twist and replicate like the patterns of DNA.
Jenny Powell is a Dunedin poet, performance poet and creative writing tutor. Her poetry has been published in a wide range of literary magazines. Her collections include Sweet Banana Wax Peppers (HeadworX, 1998), Hats (2000) and Ticket Home (Cold Hub Press, 2012) and Trouble (Cold Hub Press, 2014). As an artist interested in collaborative work, she has published Double Jointed (2003) with ten poets of her choice, and Locating the Madonna (2004) with poet Anna Jackson. Montecillo Child, her performance piece for voices, soundscape and images, debuted at Toitu Settlers Gallery, Dunedin, in 2015. Her collaborative multi-media work, Alive In Berlin, an exploration of displacement and uncertainty, was recently produced by Talking House as part of this year's Dunedin fringe festival.
The Case of the Missing Body, (an NZ Book Council Book of the Month) Powell's account of discovering purposeful physical movement, and the subsequent relationship between body and mind was published by Otago University Press in 2016.
Cover image: Kathryn Madill, 'Big Alice', 2017
South D Poet Lorikeet
Jenny Powell
ISBN: 978-0-473-41105-3
Softcover, 88 pp, 210 x 145mm